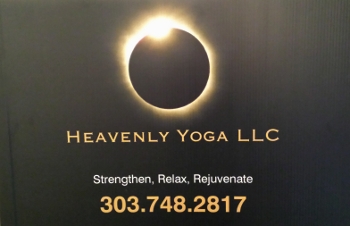 What is Yoga?
Yoga is a deeply personal and experiential inquiry into our own hearts, minds and lives.
Yoga is a 5,000-year-old wisdom tradition. Yoga means union – the union of body, mind, and soul. Yoga helps us to develop sensitivity to our present condition and offers clear methods that work across the entire spectrum of human experience.
These methods include: Breathing (Pranayama), Asanas (Poses) and Meditation!
At Heavenly Yoga in Morrison you are entering a very unique Yoga Boutique! Small class sizes will give you individual attention, excellent yoga alignment suggestions and fun and laughter to expand your own yoga horizon! Always encouraging you to attend workshops and retreats to learn more about the 8 limbs of Yoga.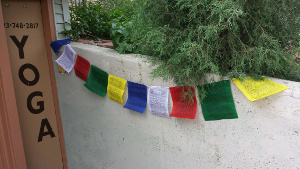 Phone: 303.748.2817
E-Mail: Click to email!
---
---
Below are the days in the foreseeable future Heavenly Yoga has no classes:
June 21st to June 25th (Wisconsin)
July 3rd - 4th of July
July 13th to July 23rd (Cuba)
August 25th to September 3rd (BM)
October 28th to November 16th (Cruise)
December 21st to January 2nd (Crested Butte)
---
---
Treat yourself with a private Yoga Class for yourself or as a gift for your loved ones!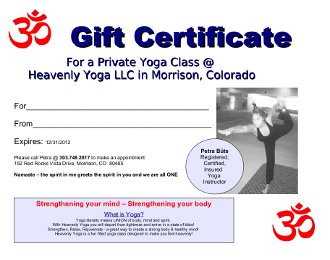 Private lessons - $55 / hour ($5 per additonal student)
---
---
Heavenly Yoga's Spring Events!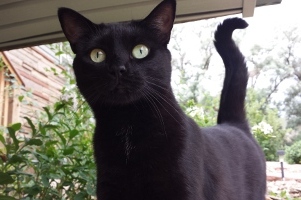 ---
Tuesday, June 19th - Yoga & Meditation
At 5:15pm we will rejuvenate with Paradise and afterwards we will sit together on yoga bolsters and meditate & still our monkey mind for 30 minutes.
---
Thursday, June 28th - Yin Yoga Class
On Thursday we will do @ 5:15pm Peace (Yin Yoga / Restorative). Yin Yoga is also known as passive yoga practice. It involves variations of seated and supine poses typically held for 3 to 5 minutes, accessing deeper layers of fascia, mainly done on the floor. The poses are supported by yoga bolsters, blocks and blankets. The time spent in these postures is much like time spent in meditation. Yin Yoga will help regulate the flow of energy in the body. An amazing peaceful yoga practice, very restorative and for all ages.
---
---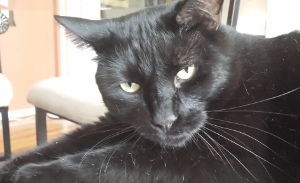 ---
---
Good Yoga Advice & Philosophy
"The only Constant is change" - A Yoga Story: There was a farmer who had a beautiful stallion. He wanted to sell the horse for a huge profit to a wealthy businessman in town. The night before the transaction, a storm came through the countryside and destroyed the barn where the stallion was held, and the horse run off. The farmer's wife said: "Oh what bad luck." The farmer said: "Good luck, bad luck, let's wait and see". A few days later, when the farmer, his wife and son repaired the barn, they saw a herd of horses galloping toward the farm. It was their stallion bringing 4 wild horses with him. The farmer's wife said: "Oh, what good luck." The farmer said: "Good luck, bad luck, lets wait and see." The farmer and his son were training the wild horses. At one point, the son fell off one of those horses and broke both of his legs. The farmer's wife said: "Oh what bad luck, we should have never let those horses in." The farmer said: "Good luck, bad luck, let's wait and see." The farmer and his family lived in a country, where the king had declared war. The soldiers came to the farmer's house to draft all the young men into the army to fight in the war, but when they saw the son laying there with 2 broken legs, they left him at home. The farmer's wife said: "Oh, what good luck." As expected the farmer said: "Good luck, bad luck, let's wait and see." This story illustrates, that the farmer was a yogi, who was able to detach himself from the up and downs of life. He understood that "Change is the only thing we can be sure of, so why not accept it?" Let's accept and be thankful what we can do with our bodies today and know that change can only be a breath away.
---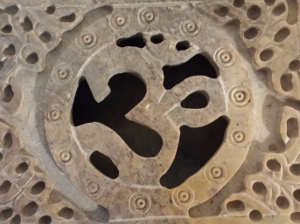 ---
---
Heavenly Yoga for YOU!
Heavenly Yoga's Slogan
Strengthen, Relax, Rejuvenate! "Why Not?"
Heavenly Yoga's Description
Heavenly Yoga classes are designed to create a strong body & healthy mind!
Heavenly Yoga's Mission Statement:
Our mission is to create an intimate and sacred setting for people to grow in their physical and spiritual yoga practice. All levels and abilities are welcome. Heavenly Yoga emphasizes the breath as the foundation to connect body, mind and spirit. We will make you sweat, sculpt, heal and transform yourself.
Heavenly Yoga's Vision Statment:
Heavenly Yoga's vision is to offer yoga's philosophy through classes, events and retreats around the world. We believe the health of a community is dependent on the health of all of its members. The sensitivity we develop on our yoga mats effects everybody around us. Slowly yogi by yogini we can shift the direction the world is taking. This includes the gifts of peace, harmony, laughter, and love. The Buddah said: "To keep your body in good health is a duty - otherwise we shall not be able to keep our minds strong and clear."
Phone: 303.748.2817
E-Mail: petralikesyoga@gmail.com
Testimonials: Please send to petralikesyoga@gmail.com I will be forever grateful for your review.
Schedule: Heavenly Yoga's Schedule
Yoga Website: Heavenly Yoga "Namaste - the spirit in me, greets the spirit in you and we are all ONE!"
Retreat Website: FUNtasticretreats "In the end we only regret the chances that we didn't take!"
---
2015 Spotlight in the Mantra Magazine Yeah!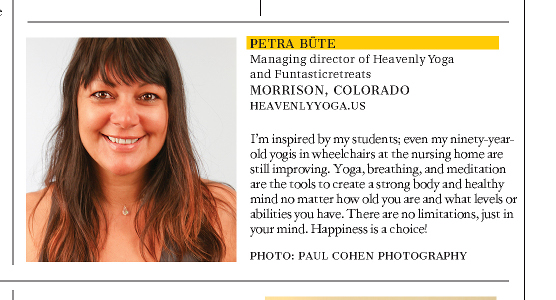 ---
---

---
---