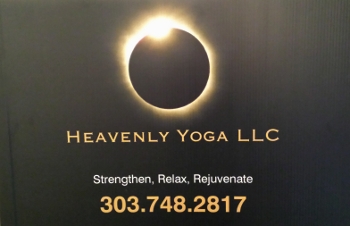 What is Yoga?
Yoga is a deeply personal and experiential inquiry into our own hearts, minds and lives.
Yoga is a 5,000-year-old wisdom tradition. Yoga means union – the union of body, mind, and soul. Yoga helps us to develop sensitivity to our present condition and offers clear methods that work across the entire spectrum of human experience.
These methods include: Breathing (Pranayama), Asanas (Poses) and Meditation!
At Heavenly Yoga in Morrison you are entering a very unique Yoga Boutique! Small class sizes will give you individual attention, excellent yoga alignment suggestions and fun and laughter to expand your own yoga horizon! Always encouraging you to attend workshops and retreats to learn more about the 8 limbs of Yoga.
Phone: 303.748.2817
E-Mail: Click to email!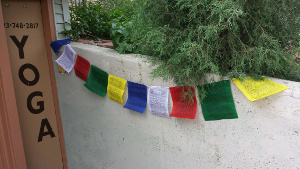 ---
---
Very happy to announce my Spotlight in the Mantra Magazine this months! Yeah!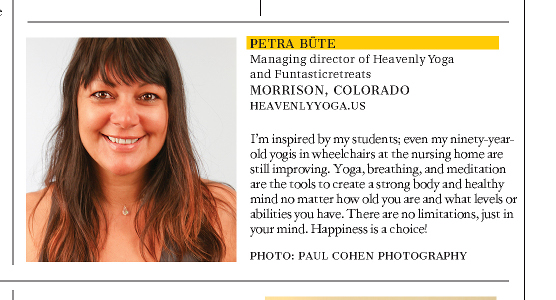 ---
---
In 2015 please remember to add more Tumeric & Black Pepper to your diet. It's cancer preventive and helps with Anti-Inflammatory issues and increases Antioxidants.
---
---
Summer Events!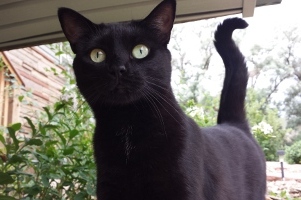 ---
If you ever wanted to go on a Yoga Retreat - but a week is too long and too expensive - here is your chance. We offer for the last weekend in June (25th to 28th) Long Weekend Retreat to Steamboat Springs with Yoga & Meditation. Only 1 room left for two people (double occupancy) and we are looking for one more female to share a room with two queen beds with another female - call us today @ 720.732.0210 or e-mail fun@funtasticretreats.com if interested!
---
---
Thursday June 25th to Sunday June 28 - Steamboat Springs Weekend Yoga Retreat
Join Petra & Lurie for a 'mini' vacation to get away from all the troubles in your life. Enjoy 3 nights & shared accommodation in one of the beautiful rooms at The Inn at Steamboat Springs. We will focus on the breath to bring healing to our body while turning inward. On Friday we plan to explore the famous Strawberry Park Hot Springs. This long yoga weekend gives you the opportunity to bring more balance, positive thoughts, and happiness back into your life. $350 - Early Bird Special until May 15th. Call us today @ 303.748.2817 or e-mail fun@funtasticretreats.com if interested!
---
Tuesday, June 30th - Yoga & Trivia
Rejuvenate with Paradise (Heavenly's 26 poses) @ 5:15pm and afterwards we will be on the deck playing Trivia. Bring not only a few libations to share, but also 5 general questions you can ask your fellow yoga mates.
---
Saturday, July 11th - Yoga & Biking
Come @ 10:30am to Bliss! We start our bike ride @ 12:30pm and will stop at Starbucks (REI - Confluence Park) for drink, food and relaxation before riding back. Roundtrip is 40 Miles and all on the bike paths...5+ hours.
---
Thursday, July 30th - Hike, Yoga & Potluck
We will leave at 3:15pm to hike the Mount Falcon loop (1 1/2hour), afterwards rejuvenate with Joy (easy Hatha Yoga class) @ 5:15pm and bring some potluck dish, wine, beer, soda, drinks to share. We will sit after class (hopefully outside on the deck, depending on the weather) to sip, talk & enjoy each others company @ Heavenly Yoga.
---
Guatemala 'Journey Through the Chakras' - April 21st to April 30th 2016
This will be an amazing trip to Guatemala. With a special 2 night stop (included) to Antigua (it is a World Heritage site and was the colonial Spanish capital of Central America) & Tikal Ruins (optional - these Mayan ruins are recognized as one of the archeological wonders of the Americas). Villy Sumaya is located at Lake Atitlan - right on the equator, but @ 5000 feet elevation, surrounded by 3 volcanoes and only accessible by boat.
---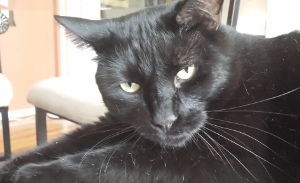 ---
Good Yoga Advice
Store Your Prana! Through controlled and regulated breathing practices during yoga, we can absorb prana or life force. We can store and use prana where and when we need it. We stockpile prana just as storage battery can store electricity in our solar plexus or third chakra, Manipura. Located at the navel, this is the chakra of the life force. It is associated with the element of fire and vibrates to the color yellow, and spins clockwise. Within this chakra we develop strength, willpower and courage. Each inhalation draws in an expansive supply of prana from the universal supply. Each exhalation radiates strength and energy to all the parts of the body. This vital energy is distributed to every organ, every muscle, every bone, every vain and every cell, from the top of your head to the soles of your feet. We are able to take risks, we feel a sense of inner power and self confidence and we are able to make positive lasting changes in our lifes. (Guiding Yoga's Light).
---
---
Heavenly Yoga for YOU!
Heavenly Yoga's Slogan
Strengthen, Relax, Rejuvenate!
Heavenly Yoga's Description
Heavenly Yoga classes are designed to create a strong body & healthy mind!
Heavenly Yoga's Mission Statement:
Our mission is to create an intimate and sacred setting for people to grow in their physical and spiritual yoga practice. All levels and abilities are welcome. Heavenly Yoga emphasizes the breath as the foundation to connect body, mind and spirit. We will make you sweat, sculpt, heal and transform yourself.
Heavenly Yoga's Vision Statment:
Heavenly Yoga's vision is to offer yoga's philosophy through classes, events and retreats around the world. We believe the health of a community is dependent on the health of all of its members. The sensitivity we develop on our yoga mats effects everybody around us. Slowly yogi by yogini we can shift the direction the world is taking. This includes the gifts of peace, harmony, laughter, and love. The Buddah said: "To keep your body in good health is a duty - otherwise we shall not be able to keep our minds strong and clear."
---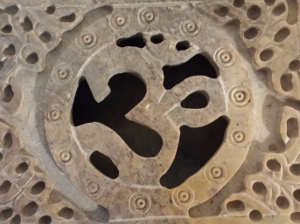 ---
---

---
---