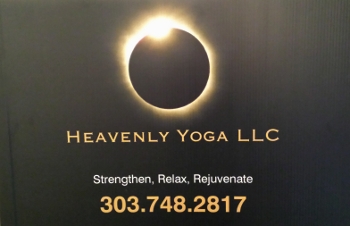 What is Yoga?
Yoga is a deeply personal and experiential inquiry into our own hearts, minds and lives.
Yoga is a 5,000-year-old wisdom tradition. Yoga means union – the union of body, mind, and soul. Yoga helps us to develop sensitivity to our present condition and offers clear methods that work across the entire spectrum of human experience.
These methods include: Breathing (Pranayama), Asanas (Poses) and Meditation!
At Heavenly Yoga in Morrison you are entering a very unique Yoga Boutique! Small class sizes will give you individual attention, excellent yoga alignment suggestions and fun and laughter to expand your own yoga horizon! Always encouraging you to attend workshops and retreats to learn more about the 8 limbs of Yoga.
Phone: 303.748.2817
E-Mail: Click to email!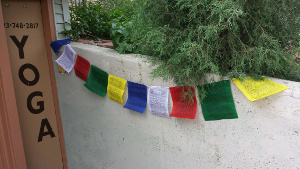 ---
---
In 2015 please remember to add more Tumeric & Black Pepper to your diet. It's cancer preventive and helps with Anti-Inflammatory issues and increases Antioxidants.
---
---
Winter Events!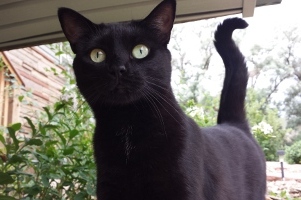 ---
Saturday, February 21st - Yoga for Lent
Come @ 10:30am to Bliss! This is a fun filled yoga flow class designed to make you feel blissful. In Western Christianity, Ash Wednesday (18th of February) marks the first day or the start of the season of Lent, which begins 40 days prior to Easter. Lent is a time when many Christians prepare for Easter by observing a period of fasting, repentance, moderation and spiritual discipline. The Vinyasa Flow Yoga class will emphasizes the breath as the foundation to connect mind, body and spirit.
---
Tuesday, March 3rd - Yoga & Pho
You will feel heavenly after doing the @ 5:15pm Paradise yoga class! If the weather permits we drive afterwards to Pho 95 to enjoy a hot Vietnamese soup together. $7 investment.
---
Tuesday, March 10th - Yoga & Meditation
Start off the yoga class with more peace and quiet in your mind. Join us @ 5:15pm for 15 min. meditation before class to still our monkey mind and after those heavenly 26 poses in Paradise we will sit or lay in Shavasana (you decide) another 15 min. Try it - I dare you!
---
Thursday, March 19th - Hike, Yoga & Potluck
We will leave at 3:15pm to hike the Mount Falcon loop (1 1/2hour), afterwards rejuvenate with Joy (easy Hatha Yoga class) @ 5:15pm and bring some potluck dish, wine, beer, soda, drinks to share. We will sit after class (hopefully outside on the deck, depending on the weather) to sip, talk & enjoy each others company @ Heavenly Yoga.
---
Thursday, April 2nd - Yoga & Movie
Rejuvenate with Joy (easy Hatha Yoga class) @ 5:15pm and bring libations to share. We will watch a movie on the new big TV. Movie suggestions welcome - something that makes you laugh!
---
April 8th to 15th - Jamaica Yoga Retreat
Consider giving this gift to yourself in 2015 and join us for A Reggae Retreat With Yoga and Meditation - 7 Days and 7 Nights of Relaxation and Rejuvenation @ the lush gardens of Negril's Yoga Centre are located across from 7-mile beach. Call: 303.748.2817 for more information.
---
Saturday, May 9th - Yoga & Biking
Come @ 10:30am to Bliss! We start our bike ride @ 12:30pm and will stop at Starbucks (REI - Confluence Park) for drink, food and relaxation before riding back. Roundtrip is 40 Miles and all on the bike paths. 5+ hours.
---
---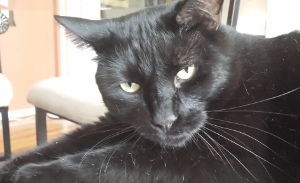 ---
Good Yoga Advice
Practice Santosha / Contentment, Niyama (2). We tend to think of contentment as the fulfillment of desires, but the yogis tell us that this kind of happiness is short lived. The yogic view of contentment develops from accepting whatever life brings us. Contentment is the mindfulness of living in the moment, something we naturally do when practicing yoga. Once you decide that what you have is all you need, Contentment/Santosha will always find a place in your heart. This requires a sense of inner acceptance, which begins when you stop comparing yourself with others. As long as there is comparison, accompanied by judgment, there cannot be contentment. Practice Santosha by remembering the blessings you have in your life. There are 1000 of extraordinary things around you, if you choose to look at them that way. In the yogic view Happiness, the feeling of contentment is a choice.
---
---
Heavenly Yoga for YOU!
Heavenly Yoga's Slogan
Strengthen, Relax, Rejuvenate!
Heavenly Yoga's Description
Heavenly Yoga classes are designed to create a strong body & healthy mind!
Heavenly Yoga's Mission Statement:
Our mission is to create an intimate and sacred setting for people to grow in their physical and spiritual yoga practice. All levels and abilities are welcome. Heavenly Yoga emphasizes the breath as the foundation to connect body, mind and spirit. We will make you sweat, sculpt, heal and transform yourself.
Heavenly Yoga's Vision Statment:
Heavenly Yoga's vision is to offer yoga's philosophy through classes, events and retreats around the world. We believe the health of a community is dependent on the health of all of its members. The sensitivity we develop on our yoga mats effects everybody around us. Slowly yogi by yogini we can shift the direction the world is taking. This includes the gifts of peace, harmony, laughter, and love. The Buddah said: "To keep your body in good health is a duty - otherwise we shall not be able to keep our minds strong and clear."
---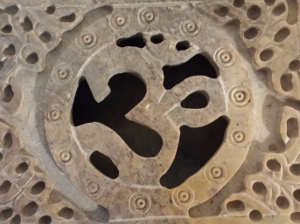 ---
---
Here are some pictures from our Yoga Retreat in November 2014 to Puerto Rico - we had a fantastic group and laughed so much!
---
We had a great time doing Yoga & Uncorked Canvas @ the Artful Journey School in Evergreen, Colorado. December 10th, 2014 - Cheers!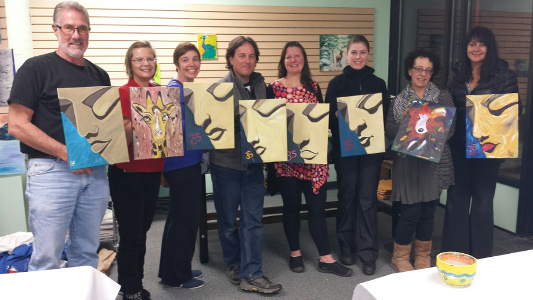 ---
---

---
---