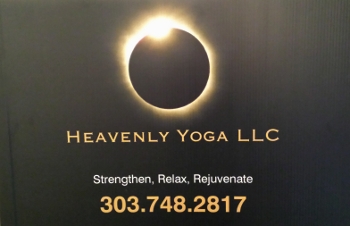 What is Yoga?
Yoga is a deeply personal and experiential inquiry into our own hearts, minds and lives.
Yoga is a 5,000-year-old wisdom tradition. Yoga means union – the union of body, mind, and soul. Yoga helps us to develop sensitivity to our present condition and offers clear methods that work across the entire spectrum of human experience.
These methods include: Breathing (Pranayama), Asanas (Poses) and Meditation!
At Heavenly Yoga in Morrison you are entering a very unique Yoga Boutique! Small class sizes will give you individual attention, excellent yoga alignment suggestions and fun and laughter to expand your own yoga horizon! Always encouraging you to attend workshops and retreats to learn more about the 8 limbs of Yoga.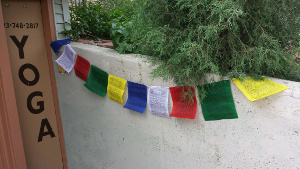 Phone: 303.748.2817
E-Mail: Click to email!
---
---
May your Holidays be Balanced and Bright with lots of Luv!
My yoga friends, as many of you know, I will be gone on my yearly sabbatical (this year off to Bali) from Black Friday to the end of the year. Back to teach on December 28th. I take some time for myself, to find yoga places & teachers around the world that inspire me, to get a new perspective on life, learn about other culutres and come back refreshed with tons of energry and recharged batteries.
---
---
Guatemala 'Journey Through the Chakras' - April 21st to May 1st 2016 We have one more room available for Guatemala'Journey Through the Chakras' - April 21st to May 1st 2016 and will still honor the Early-Bird Special until the end of the year. For 10 days and 10 nights ($1750/pp) and 2 spots for woman to either share a triple or double room. There will be no other room available it those are filled. Here are some pictures from our Belize Trip.
---
---
Heavenly Yoga's Winter Events!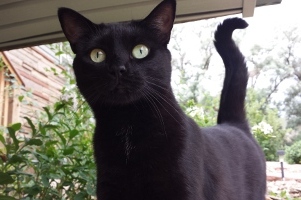 ---
Tuesday, January 12th - Yoga & Meditation
Join us for Paradise (26 poses) @ 5:15pm and afterwards we will sit together on yoga bolsters and meditate & still our monkey mind for 30 minutes. Meditation produces a deep state of relaxation and a tranquil mind. Meditation might also be useful if you have a medical condition, especially one that may be worsened by stress. We will practicing Mantra meditation. In this type of meditation, you silently repeat a calming word, breath, thought or phrase to prevent distracting thoughts.
---
Thursday, January 21st - Yoga & Potluck
Please join us @ 5:15pm to experience Joy (easy Hatha Yoga class) and bring a potluck dish & libations to share. This will be our first official gathering after the Holidays. We will sit after class to catch up, eat, sip, talk & enjoy each others company @ Heavenly Yoga.
---
---
FUNtasticretreats Yoga Trips Around the World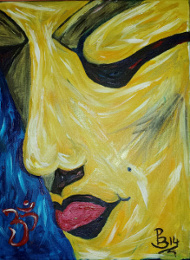 ---
Guatemala 'Journey Through the Chakras' - April 21st to May 1st 2016
This will be an amazing trip to Guatemala. With a special 2 night stop (included) to Antigua (it is a World Heritage site and was the colonial Spanish capital of Central America) & Tikal Ruins (optional - these Mayan ruins are recognized as one of the archeological wonders of the Americas). Villy Sumaya is located at Lake Atitlan - right on the equator, but @ 5000 feet elevation, surrounded by 3 volcanoes and only accessible by boat. Only 1 room left.
---
Another amazing adventure will be the Iceland trip we are planning for next Oct/Nov time frame. More details to follow after the holidays. If you are interested in this trip, get in touch!
---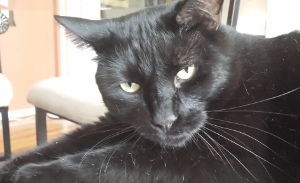 ---
Good Yoga Advice & Philosophy
"Letting Go" A Yoga Story: Two monks were walking toward a river with the intention of crossing it. The monks saw a women at the riverbank waiting for someone help her get across. This was centuries ago, and those days, monks were forbidden any contact with women. The first monk said to the second monk:" This women needs help, should we take her across the river with us?" The second monk angrily replied: "We can't do that, we would be breaking our sacred vows." The first monk thought about what his friend has said, than took the women on his back and carried her across the river. After traveling and walking for a long time, the second monk who was very distraught about his brother's monk contact with the women, went on and on about how the vows were now broken and what they were to do? How would they explain this back at the monastery? The first monk stopped, looked at the second monk and said: "Brother, I left that women two miles back, why are you still carrying her?" When we hold on to our outdated ideas, our way of doing things, we hold on to things we no longer need to carry. The next time you feel yourself attached to an idea of how things should be, notice what effect attachment has in your body. Do your muscles tighten, does your breath feel stifled, is your face tense? Think of your yoga mat as a sacred place where you can unearth your buried baggage and give it over to the universe. Only by letting go, forgiving and letting guilt and anger fade away can we live in the moment and let the possibilities of life lead us.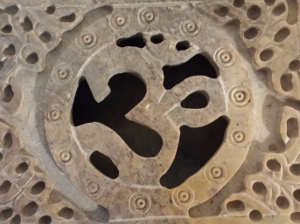 ---
---
Heavenly Yoga for YOU!
Heavenly Yoga's Slogan
Strengthen, Relax, Rejuvenate! "Why Not?"
Heavenly Yoga's Description
Heavenly Yoga classes are designed to create a strong body & healthy mind!
Heavenly Yoga's Mission Statement:
Our mission is to create an intimate and sacred setting for people to grow in their physical and spiritual yoga practice. All levels and abilities are welcome. Heavenly Yoga emphasizes the breath as the foundation to connect body, mind and spirit. We will make you sweat, sculpt, heal and transform yourself.
Heavenly Yoga's Vision Statment:
Heavenly Yoga's vision is to offer yoga's philosophy through classes, events and retreats around the world. We believe the health of a community is dependent on the health of all of its members. The sensitivity we develop on our yoga mats effects everybody around us. Slowly yogi by yogini we can shift the direction the world is taking. This includes the gifts of peace, harmony, laughter, and love. The Buddah said: "To keep your body in good health is a duty - otherwise we shall not be able to keep our minds strong and clear."
Phone: 303.748.2817
E-Mail: petralikesyoga@gmail.com
Testionimals: Please send to petralikesyoga@gmail.com I will be forever grateful for your review.
Schedule: Heavenly Yoga's Schedule
Yoga Website: Heavenly Yoga "Namaste - the spirit in me, greets the spirit in you and we are all ONE!"
Retreat Website: FUNtasticretreats "In the end we only regret the chances that we didn't take!"
---
2015 Spotlight in the Mantra Magazine Yeah!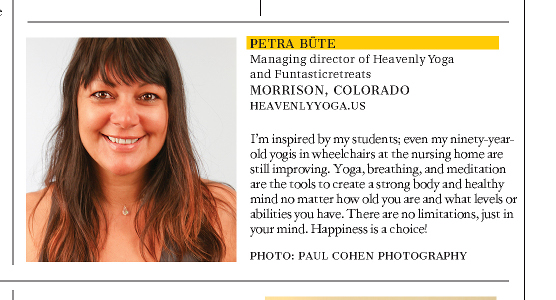 ---
---

---
---