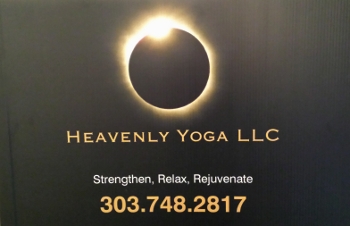 What is Yoga?
Yoga is a deeply personal and experiential inquiry into our own hearts, minds and lives.
Yoga helps us to develop sensitivity to our present condition and offers clear methods that work across the entire spectrum of human experience.
These methods include: Breathing (Pranayama), Asanas (Poses) and Meditation!
At Heavenly Yoga in Morrison you are entering a very unique Yoga Boutique! Small class sizes will give you individual attention, excellent yoga alignment suggestions and fun and laughter to expand your own yoga horizon! Always encouraging you to attend workshops and retreats to learn more about the 8 limbs of Yoga.
Phone: 303.748.2817
E-Mail: Click to email!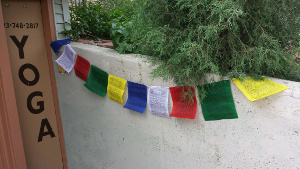 ---
---
I'm very thrilled to announce our next Yoga Retreat to Puerto Rico will be in November. The week before Thanksgiving, Nov. 14th to 22nd to relax before all the Holiday Frenzy begins. We will stay at Villa Orleans in Rincon, PR.
---
Summer is busy for many of us and end of August is my annual trip with ShangriLa to the dessert and September lots of Family & Friends are visiting. Therefore the Saturday morning class at 10:30am is canceled for the time being. The Tuesday & Thursday class will stay the same. Namaste
---
---
Fall Events!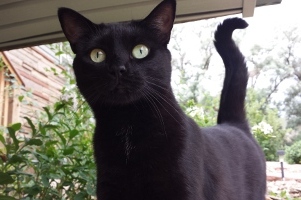 ---
Tuesday, September 16th - Yoga & Movie
Come to 5:15pm
Paradise
class and we will watch a movie after some potluck time... Movie - TBD - but suggestions are appreciated. We will sit in the Yoga room on bolsters and get the popcorn going.
---
Septemer 19th to 21st - Camping, Yoga & Palisade Winefest
This is for those of you that like wine & yoga events. We will be driving on Friday afternoon to one of the
Grand Mesa Campgrounds
and will do some Yoga on Saturday morning and enjoy the 23rd Annual Colorado Mountain Winefest
Festival in the Park
from 10:30am-5:00pm @ Riverbend Park, Palisade, CO with 45 wineries, dozens of artisan and food vendors and few thousand like-minded Colorado wine lovers for the biggest wine festival in the state! Driving back on Sunday afternoon or later to miss traffic...
---
Thursday, October 9th - Yoga & Bowling
Come at
5:15pm
to Heavenly Yoga's
Joy
class and afterwards we have reservations at 7:30pm with the
Lucky Strike Lanes
@ Belmar. You can eat there. It will be fun.
---
Thursday, October 23rd - Yoga & Potluck
Come at
5:15pm
to Heavenly Yoga's
Joy
class and afterwards we will sit together with food & libations to share. It's always fun - and a good time to think about all the Halloween costumes to wear...
---
Friday, October 31st - Halloween Party @ Heavenly Yoga!
Halloween Party starts around 7pm - please bring wine or any libations to share and an appetizer. We had over 100 people the last few years and expect a very good turn out. Make sure you come dressed up - otherwise you will not be allowed in the house! Are you ready to be scared? Booooooooooooooooooo ~
---
---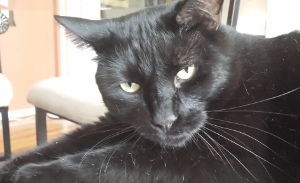 ---
Good Yoga Advice
Practice Satya (Truth)! This is our second Yama. What is truth? Truth is more than not telling lies. Practicing satya means being truthful in our feelings, thoughts, and words, and deeds. It means being honest with ourselves and with others. Satya also translates as avoidance or distrortion or any fabrication of truth. Our yoga philosophy suggests that if truthfullness brings MORE HARM than good, our choice is to remain silent. Honesty is what we do when others are around and might judge our actions or words. To have integrity is to act in an honest manner when others are not around and will never know about our actions. Gossip is probably the worst form of communication. Remember that what anybody thinks of you, is none of your business. Be true to yourself!
---
---
Heavenly Yoga for YOU!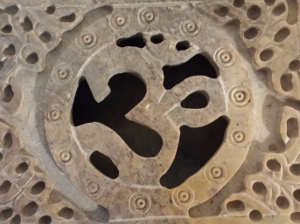 You will depart from tightness and arrive in a state of bliss! Strengthen, Relax, Rejuvenate - a great way to create a strong body & healthy mind! Heavenly Yoga classes are designed to make you feel heavenly!
If you are interested in yoga for spiritual benefits or for health and fitness, Heavenly Yoga can provide both. Synchronous breathing with strong, flowing movement combines for a hot, high energy workout.
Different from other style, Heavenly Yoga is based on a choreographed sequence of poses (asanas). These asanas flow into one another, creating a moving dance.
Joints unwind in the process, muscles are released, energy is moved. Throughout the practice, a person builds strength, flexibility, and mental focus with the final result being a release of tension.
Heavenly Yoga is a way to help attain equilibrium of body, mind, and spirit. Through the regular practice of Heavenly Yoga, this balance is accessible anytime, anywhere for anyone!
Yoga literally means union of mind and body. It's the only exercise where you constantly improve, even if you are 90 years old. Heavenly Yoga keeps you young and healthy.
The flow and style of Heavenly Yoga creates an environment where all levels and abilities can practice and succeed individually. Heavenly Yoga emphasizes the breath as the foundation to connect the mind and the body.
Expect to sweat and experience profound changes in your body as well as a quieter, more peaceful state of mind. Sculpt, heal and transform your body with Heavenly Yoga!