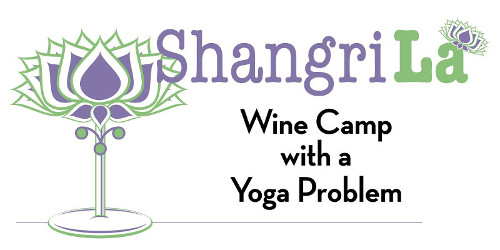 ---
---
Theme Camp Leader's
A well rounded theme camp means, you know what you are doing and are on top of things. But you can never do it alone. There is always a 'core' group that will make it all happen:
Camp Mistress & Treasurer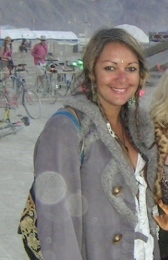 ShangriLa's Main Contact e-mail: Almond Joy
Almond Joy has been on her yoga journey for over 19 years. She is a certified Hot Yoga and Power/Vinyasa Yoga teacher and has taught Yoga since 2005. She is originally from Germany and has an MBA in International Business. She is the founder and director of Heavenly Yoga and teaches FUNtastic Yoga Retreats around the world. Almond has been to the playa 16+ times. She has her own wine club with over 1100 members (since 2000) and started ShangriLa in 2011 to have a smaller more intimate theme camp. She is in charge of ShangriLa's website, Facebook-group, schedule, event planning & camp treasurer and main camp contact for Burning Man.
ShangriLa's phone number: Three 0 Three.748.28 One 7
Please email or text Almond Joy for more information - THANX & Vielen Dank!
---
---
We all need a HERO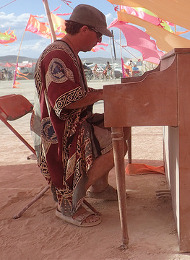 We all need a Hero e-mail: Hero
Hero is the yogi that introduced ShangriLa to BRC-HOA Village in 2017. He came from Trashistan, but ShangriLa is thrilled to have him with us. He already build us a yoga floor for our yoga space at Burning Man. In 2019 he is building an art car. He is also in charge to light up our bar and chill space. His first trip to the playa was 2003...he has been 10+ times to the playa.
---
---
Moop & Leave No Trace (LNT) Queen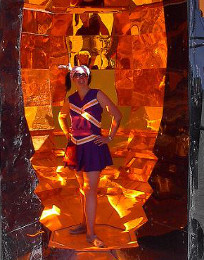 MOOP & LNT Contact Name e-mail: The Situation
The Situation is very passionate about keeping this planet a better place. She seeks to work with bright people who design and implement solutions that expand value and therefore the perfect fit to lead ShangriLa's Matter Out of Place (MOOP) team. She will make sure we have people assigned every day to pick up every little piece of MOOP that does not belong on the playa (especially wood chips, which seem to be the biggest problem nowadays). So everything that wasn't originally on or of the Black Rock Desert, no matter how small, is considered MOOP, and is to be removed as part of our Leave No Trace efforts. MOOP also includes grey-water, and the particulates contained therein. The Situation will implement a recycling plan @ ShangriLa to reduce the camp's impact on the environment to as little as possible. The Situation will be the main force in ShangriLa's effort to separate and recycle our garbage and dispose of the trash and recyclable material appropriately every day! Her spouse Hero first took The Situation to the Playa in 2005. It was a hard year, and she didn't return again until 2014, making her what is known as a 'Born-Again Burner'.
---
---
Fire Safety
ShangriLa's Fire Safety e-mail: TBD.
TBD is the perfect choice for 'Safety First' and will be working along side with our Moop Queen. The ShangriLa Camp Safety Squad will maintain a safe environment for all our campers and quests to enjoy. The main components of our Safety Strategy are Fire Lane Access, Fire Safety, and First Aid kit.
---
---

---
---