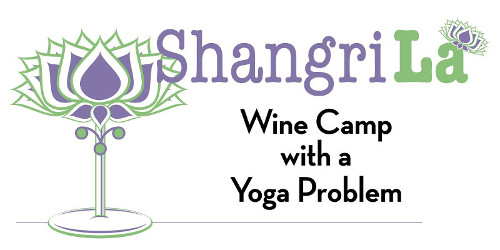 ---
---
Camp Expectations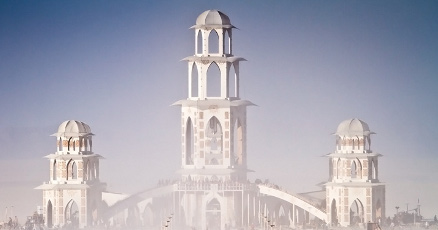 ShangriLa's Camp Manifesto
This is NOT a Plug n Play Camp! This camp works through participation and you are required to get into volunteer roles irregardless of that price you pay as a camp fee. Camp fees entitle you to a shaded camp space. We have a shower and kitchen tent.
It takes a lot of work in a variety of areas to pull together a theme camp for Burning Man. What this boils down to is:
First and foremost Dear LaLa's(that's what we call ourselves) please read Burning Man's Ten Principle. We like to encourage all of you to adhere to those set of rules.


Being part of ShangriLa's theme camp means you are willing to go the extra mile, work with a smile when building the camp and welcome anybody into our camp with love, compassion and an open heart. This is the time for you to be the yogini/yogi you always wanted to be! The one who sees the true equality of all beings and sends healing vibrations and love to everybody around you.


Volunteering at pre-playa events is a great way to meet and work with your camp-mates before the burn. And if this is either your first burn or your first time camping with ShangriLa, these pre-playa events will help you figure out if this is the camp for you.



We always communicate with the ShangriLa spirit in mind, that enables us to resolve differences, build trust and respect, and create an environment where creative ideas, problem solving, affection, and caring can flourish.


We will keep this camp small & cozy. However, if you want to add somebody else, just submit their names for consideration.


We don't want to outgrow our infrastructure and our shower capacity.


We expect you to fully engage in the Burning Man experience and participate for the entire week. We can't accept 'tourists' that want to show up for 3 days and leave. Please find another camp that has a bigger infrastructure than ShangriLa for that.



For old and new ShangriLa peeps, here is a good list to What To Bring To The Playa (PDF) (Google Doc) and read again Tips for Virgin Burners (PDF) (Google Doc).


We expect that you keep things confidential. It doesn't mean you can't tell other people how great the burn was, but you keep your camp-mates integrity intact by not mentioning or bragging what they all did and what you did with them. This is your own opportunity to explore a new side of you and grow in new ways. What happens on the playa - stays on the playa!!!


If you EVER write an Article about your Burning Man experience and use the name ShangriLa - you have to asked permission from the whole camp and all the names (real name or playa names) mentioned in any write-up.



We expect that you keep photos from your camp mates (especially if they wear revealing outfits) and your Burning Man experience private. If you want to officially post some pictures on Facebook, on the Web, in a news forum, etc. make sure everybody is OK with it - you have to asked permission.


Old or new ShangriLa peeps, you are expected to communicate and sign up for the Jack Rabbit Newsletter & create a Burner Profile. We will also share files through Google Docs.


Getting a ticket (including a car pass) for Burning Man is your own responsibility. Please make sure your Burner Profile is updated.


If you have a scheduled event @ ShangriLa - we expect you to be there, no excuses.



If you get early entry from ShangriLa (which are limited) we expect you be there by Wednesday before the burn.


We will set-up the ShangriLa camp on Thursday, Friday & Saturday, with everybody that got an early entry ticket. If weather permits, we should be open on Sunday morning.


ShangriLa expects that you will help with running the camp. The ShangriLa Playa Schedule (PDF - Google Doc) will tell you when it's your turn. This means assisting with ice runs for the camp, cleaning up tables and tent before Yoga class, putting chairs away, sweeping the yoga floor, helping with Moop (Matter Out Of Place) and recycling. This also includes securing the shade structure, tent, floor, flags, shower, light fixtures or whatever else is needed.


Every LaLa is expected to help with the daily Happy Hour Weinkeller bartender responsibilitys and more (found on PDF schedule).



Before leaving the playa, everyone needs to help with some breakdown tasks (breaking down the tent structure, taking trash off-playa, helping organizing the bungee balls and writing down what we have and what is needed for next year, & driving our trailer back to Gerlach, Moop duties, etc.).


Camp fees are $100. The amount of money goes towards yearly storage of our horse trailer in Gerlach and additional materials for ShangriLa.


We ask every LaLa to bring 2 boxed wines (white/red) and whatever else is needed for our ShangriLaLa Weinkeller.



If you pay your camp fees - they belong to the camp and you can't ask for them back if you decide not to go to Burning Man or go with another camp.


If you bring in a virgin or new person to ShangriLa - please educate them about what is expected to be part of this theme camp. They MUST read the First Time Survival Guide and our Camp Manifesto.


ShangriLa expects to have your full name, playa name, address, phone, email and emergency contact before entering Burning Man. Please go to Google Docs, and fill out the ShangriLa Emergency Contact Info form. If you can't open the file, please print & populate Emergency Info (PDF) and bring with you to the burn.


Please bring your Tutu and one WHITE outfit to playa.Feathers in any kind or form are not permitted at ShangriLa.



If ShangriLa gets fined for serving alcohol to a minor - the person who poured the drink is responsible for paying the amount. So, please ask for an ID, before you offer any alcoholic beverage to a person you don't know. Please read: Law Enforcement @ Burning Man.


On that legal note, we expect you be fully responsible for your own actions. Any claims, liabilities, damages, losses, costs and expenses (including legal fees) suffered by your own doing is not ShangriLa's responsibility!


You all need to bring to the playa: Scissors, Work Gloves, Wine Opener, Beer Opener and your Yoga Mat!!


If you don't help planning this camp (this includes coming to camp meetings before the event if you live in Colorado), tear down and help with running the camp throughout Burning Man, you will be BANNED from camp FOREVER! We will no longer tolerate Freeloaders. If you contribute nothing, party all you can, and then sit and watch us work our butts off, find another camp, or camp by yourself without the amenities of a theme camp.
---
---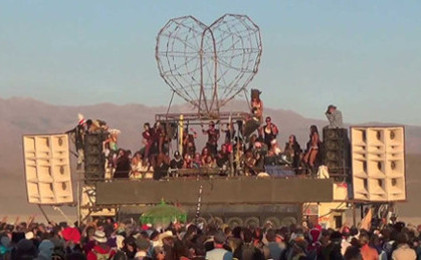 ---
---
ShangriLa's LNT Plan
As camp we will:
Create a detailed strategy or plan for Leaving NO Trace
Practice the 6 R's: Rethink, Reduce, Reuse, Recycle, Restore and Respect.
Reduce trash when packing.
Keep smelling garbage away from recyclables in BRC.
Clean As We Go and Keep It From Hitting the Ground.
Educate all camp members about minimizing our impact on the playa, so that ShangriLa's LNT crew can relax during the event knowing that all of our camp members are doing their part.
Conserve energy, use renewable energy sources and minimize waste.
Collect, reduce and properly dispose of grey water.
Use or creatively use discarded materials for all the components of our camp structure and decorations, so that our camp is sustainable year after year.
Bring tools to rake, magnetic rake, sweep and pick up every last nail and wood shard that dropped on the playa surface so that ShangriLa leaves the space and the surrounding spaces better than we found them.
Follow the rule of thumb for line sweeps – performing required multiple sweeps of our camp before leaving BRC. (One sweep is not enough. Do as many passes as necessary: the strength of the line sweep is in the number of people and passes.)
Organize neighborhood MOOP sweeps. (Joining with neighboring camps and sweeping an entire block together is the best insurance against MOOP hot spots, bringing your own MOOP scores down.)
Secure all vehicles' loads to prevent windblown trash on the highway and in neighboring communities.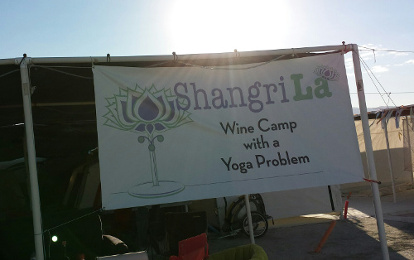 Leave No Trace is a cornerstone of the Burning Man ethos and on of our Ten Principles. Each ShangriLa camp mate promises to practice the 6 R's: Rethink, Reduce, Reuse, Recycle, Restore, and Respect:
Rethink: To make a difference, we must make a conscious effort to do so. That begins by questioning our actions. We must ask ourselves, do we really need these things? Is there another use for this? Can this be recycled?


Reduce: We will encourage members to bring only items that can be recycled on-site. Only bring food that will be consumed and purchase food items in bulk with minimal packaging.


Reuse: Infrastructure projects will be created with an eye on sustainability and quality so that they can be used in future burns. Items like tables, chairs, shade structures etc...will be reused from past burns. Decorative items will be borrowed from camp members and purchased at garage sales and second hand stores.


Recycle: Every item that can be recycled will be recycled, with a focus on encouraging camp members to bring items that can be recycled at Burning Man. Teams will be assigned each day to transport all items to the appropriate recycling centers.


Restore: Camp moop sweeps will not be a one­ time, hurried event. Instead, it will be part of our yoga meditation, done on a daily basis. We will adapt a form of walking meditation to slowly, peacefully, traverse the camp each day, using hands, magnetic rakes, and other tools, to pick up stray moop; "meditative moop" sweeps if you will.


Respect: All of our activities will be undertaken with the utmost respect for self, the community, and the playa. We will respect and serve the community and ourselves by creating a haven of tranquility and beauty. The playa, while appearing harsh, is actually a fragile environment. Respect for this environment means being on the land in a way that will result in truly leaving no trace of our activities after our departure.
Alternative Energy
100% of ShangriLa's communal camp lighting will be produced from solar energy! In addition to solar lights, we will be using a Goal Zero 400 Watt-hour power pack charged from the camp's 100 Watt solar panel to power strings of low wattage lights and multi-colored disco ball used for ShangriLa events. We strive to try to make our camp as GREEN as possible.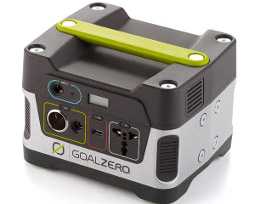 LNT plan specifics:
Recycling Station: A centrally located recycling station will be made available to camp mates in the kitchen tent, separate plastic bins with lids will be used to segregate materials for daily recycling.


Camp Lighting: 100% of ShangriLa's communal camp lighting will be solar using Goal Zero. One 100W solar panel will charge a 400W Goal Zero battery daily and will supply enough power for 12V strands LED lights, a motorized disco ball, and possibly a ghetto blaster. Solar spotlights will be used to make our camp signs visible and solar ground lights will be located in the living quarters.


Meditative Moop: At scheduled times daily, moop sweepers will be responsible for collecting any moop at the camp, doing thorough scans of every inch of the camp. Moop sweepers will use a 5 gallon bucket with lid (a small hole cut out of the top), and a handle to collect any moop for playa removal. It will be stored in the kitchen tent next to the recycling station.


Shower: The existing camp shower will be reused but modified for safe and easy gray water collection by each camper. Modifications include elevating the existing shower platform and constructing a new collection basin on the bottom of the shower that will funnel the gray water into a 5-gallon bucket. Gray water collected will then be transferred into a personal storage container and disposed of once off the playa. After each shower, the responsible camp mate will use a vinegar solution provided to spray and disinfect shower basin.


Kitchen Sink: A kitchen sink will be provided and all gray water produced will be funneled into a bucket for collection and disposal once in the default world. After each usage, the responsible camp mate will use a vinegar solution provided to spray and disinfect the sink.
Matter Out Of Place (MOOP)
Red: High Impact Trace
Yellow: Moderate Impact Trace
Green: Low Impact to No Impact Trace
ShangriLa is always GREEN on the official MOOP map & we certainly like to keep it that way.
Other 'Moopy' items are:
wood chips, splinters and sawdust
pistachio shells
cigarette butts
live plants
burn barrel ashes
feather boas
sequins
mylar (once it dries out and cracks)
firecrackers and fireworks
anything that may dry out, break up and/or blow away in the wind
loose glitter
Astroturf
styrofoam coolers
plastic bags
sheets of paper
string
disposable drink cups
hay bales
straw
gravel
confetti (duh)
swimming pools (soaked playa = moop)
glass containers (they can shatter)
---
---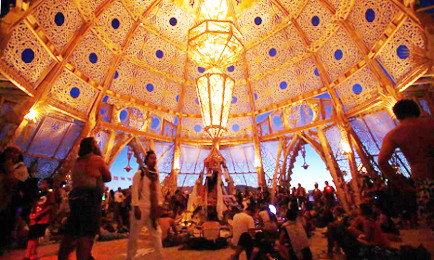 ---
---
Shower Rules for ShangriLa
Bring your own sun shower bag.


Use your own water to fill up said shower bag (ice water from cooler works great).


Clean up after yourself, which includes your soap, shampoo, and towel. If you left a big clump of hair, please get rid of it. It's disgusting and nobody wants to pick it up either, but it's your responsibility, so take care of it.


Take your shower bag off the bar!


Do not SHAVE in the Shower.


The shower is only for peeps in ShangriLa camp and their close friends.


Absolutely - NO waste-water dumping in the shower!


For shampoo & body soap, please use Biodegradable SOAP ( Dr. Bronner's works well ).


Do not spit or brush your teeth in the shower. Bring a separate container (plastic jug/soda bottle) to spit in then take the jug home with you to dispose of.


Don't blow your nose in the shower.


If you pee in the Shower - you will be BANNED from camp FOREVER!



---

---




---

---

Kitchen Rules for ShangriLa

Bring a camping stove.


Bring your own pots, pans & kettle for use in kitchen.


Bring your own propane & lighter.


Bring your own kitchen cooler.


Bring plastic tubs for washing/rinsing dishes with biodegradable dish soap: https://www.drbronner.com/


Everyone is responsible for his/her own dishes. Responsible for washing and storage.


Bring all the utensils you need in kitchen (plate, bowl, cup, fork, knives, spoon, cutting board).


Don't forget can opener, wine opener, beer opener, scissor and kitchen utensils & paper towels.


Personal hygiene is advised - wash, dry and sanitize hands before using kitchen.


Bring your own gray-water container for cleaning dishes.


CLEAN up your dishes after each use! If you leave dishes dirty, you will be BANNED from camp FOREVER!



---

---

---

---

ShangriLa Camp Safety

Working along side with our LNT and MOOP teams, the ShangriLa Camp Safety Squad will maintain a safe environment for all our campers and quests to enjoy. The main components of our Safety Strategy are Fire Lane Access, Fire Safety, and First Aid.

Fire Lane Access: In order to provide emergency vehicle access, we will have a clearly designated Fire Lane, as shown on our Camp Layout. The Fire Lane will be a straight, 12' wide passage, with the entrance and length kept clear of bicycles, automobiles, equipment, etc., at all times. Additionally, the Fire Lane will be clearly designated with secured overhead signage, and marked off with yellow caution tape.

Fire Safety: ShangriLa will have no Flame Effects, Burn Barrels, or Open Fire at our camp. Even so, we will take measures to ensure fire safety in our camp, especially in our Kitchen and the Weinkeller ShangriLaLa wine bar. To do this, we will provide three (3) Class K fire extinguishers ( Kidde UL 711A or similar). These are designed to extinguishing kitchen fires (grease/oil), and use a non-toxic, non-corrosive, and non-conductive dry chemical extinguishing agent. Each extinguisher comes with a mounting bracket, and will be mounted to either a post or pole. One extinguisher will be positioned in the designated kitchen area, and the other two just outside this area, on opposite sides. All extinguishers will have a laminated tag attached with easy to understand operating instructions. Additionally, all camp participants will be instructed in the use of these extinguishers upon arrival at the event, along with the location of these and any other fire safety devices.

We will also provide two (2) Fire Blankets, which have the added benefit of using no chemicals and suitable for putting out flames on persons if necessary. The fire blankets will be stationed with the two extinguishers at the entrances to the kitchen area, and will have laminate tags with instructions for use attached.

First Aid: To keep our campers and quests happy and healthy, we will provide a basic First Aid Kit. The kit will be stored in our central Kitchen area, which will make for easy access by anyone in the camp. We will stock our kit with basic medical supplies like hydrogen peroxide, antibacterial cream, burn cream, band aids, cloth adhesive tape, sterile pads, over-the-counter pain relievers (ibuprofen, aspirin, etc.), gloves, and tweezers.

---

---




---

---

Burning Man's Ten Principles

Radical Inclusion

Anyone may be a part of Burning Man. We welcome and respect the stranger. No prerequisites exist for participation in our community.

Gifting

Burning Man is devoted to acts of gift giving. The value of a gift is unconditional. Gifting does not contemplate a return or an exchange for something of equal value.

Decommodification

In order to preserve the spirit of gifting, our community seeks to create social environments that are unmediated by commercial sponsorships, transactions, or advertising. We stand ready to protect our culture from such exploitation. We resist the substitution of consumption for participatory experience.

Radical Self-reliance

Burning Man encourages the individual to discover, exercise and rely on his or her inner resources.

Radical Self-expression

Radical self-expression arises from the unique gifts of the individual. No one other than the individual or a collaborating group can determine its content. It is offered as a gift to others. In this spirit, the giver should respect the rights and liberties of the recipient.

Communal Effort

Our community values creative cooperation and collaboration. We strive to produce, promote and protect social networks, public spaces, works of art, and methods of communication that support such interaction.

Civic Responsibility

We value civil society. Community members who organize events should assume responsibility for public welfare and endeavor to communicate civic responsibilities to participants. They must also assume responsibility for conducting events in accordance with local, state and federal laws.

Leaving No Trace

Our community respects the environment. We are committed to leaving no physical trace of our activities wherever we gather. We clean up after ourselves and endeavor, whenever possible, to leave such places in a better state than when we found them.

Participation

Our community is committed to a radically participatory ethic. We believe that transformative change, whether in the individual or in society, can occur only through the medium of deeply personal participation. We achieve being through doing. Everyone is invited to work. Everyone is invited to play. We make the world real through actions that open the heart.

Immediacy

Immediate experience is, in many ways, the most important touchstone of value in our culture. We seek to overcome barriers that stand between us and a recognition of our inner selves, the reality of those around us, participation in society, and contact with a natural world exceeding human powers. No idea can substitute for this experience.




---

---

---

---

---

---