Trip of a Lifetime - May 1st to May 10th 2014
Panama Canal crossing and 6 days on an Caribbean Island!
This is a very exclusive 9 day retreat with a maximum of 10 participants.
Shared accommodation in one of the beautiful Bluff Beach Retreat bedrooms for 6 nights (1)
2 Yoga classes a day (2)
Breakfast, Lunch & dinner included (3)
We have the entire Bluff Beach Retreat for ourselves
A group horseback ride included
Panama City - Tour of the City included on May 8th (4)
Panama Canal crossing on May 9th 2014 included (5)
Hotel in Panama City included - based on double occupancy (6)
Ground transportation to and from the airport in Panama City and Bocas del Toro included (7)
Only $2500
Flights for this trip are NOT included (8)
---
---
For all of you Yogis & Yoginis interested in our Panama Yoga Adventure & Meditation Retreat - here is more detailed information about the trip. Of course husbands, wives, girlfriends, boyfriends, friends, partners etc. are very much welcome...You have to be 18 years of age.
Panama Yoga Adventure & Meditation Retreat
Panama Yoga Retreat!
Join Petra Büte & Lurie Nassau for an exclusive Yoga Retreat!
2 Yoga Classes a day **
Call us or e-mail us today!
303.748.2817 or e-mail petralikesyoga@gmail.com
720.732.0210 or e-mail lurienassau@yahoo.com
This resort got 5 Star reviews from Trip Advisor!
There will be plenty of other fun activities such as...hanging out at the pool or beach, bikes to use for you to explore the island and horseback riding, watching sea turtles and hike through lime and orange trees.
Treat yourself to a yoga retreat in paradise. Your home for 6 nights is directly on the beach overlooking the open Caribbean Ocean. Bluff Beach Retreat. is located on a breathtaking beach of the main island Bocas del Toro.
Bluff Beach Retreat
The retreat houses are environmentally friendly including solar power, rain water collection and organic farming practices. The beach front house has 4 bedrooms with a huge wrap around porch for dining and yoga - overlooking the Caribbean. There is also a 2 bedroom guest cottage with jungle and garden views. Their 4 acre property is located at Bluff Beach with jungle paths leading to their 150 acre organic farm complete with lime trees, plantain, pineapples, oranges and of course the horses of Bluff Beach Retreat. A group horseback ride will be included.
The sand is deep and soft and the beach is almost deserted. Your twice daily yoga sessions will take place on the huge wrap around porch cooled by the ocean breeze. Relax in Savasana at the end of your class with the sounds of parrots and the chatter of monkeys. Enjoy invigorating yoga classes in the morning - suitable for all levels and experience. The afternoon sessions will focus on restorative yoga, meditation and gentle flow yoga. (9:30am & 5:30pm)
Bluff Beach Retreat is nestled right next to the beach. You will hear the ocean waves when laying in bed. There is an inviting and beautifully designed swimming pool to relax as well and the ocean.
Included in you package are 3 delicious meals prepared each day at the on-site restaurant, offering fish, chicken amd vegetarian options. Most of the food is grown on the island and considered 100% organic.
We will leave on Thursday, May 1st and fly to Panama City for 1 night. On May 2nd we will fly to our 6 day retreat to Bluff Beach Retreat and retrun on May 8th to do the tour of the city, which is included in your package. On May 9th we will do the Panama Canal crossing, which is also included in your package. 2014 is the 100 year anniversary of the Panama Canal! It is the 8th Wonder of the world.
Early morning on May 2nd at 6:30am we will take our island flight to Bocas del Toro and stay at Bluff Beach Retreat for 6 days. Our return flight will be on May 8th 2014 at 7:45am. Flight time is 45 minutes and we will do the Tour of Panama City that day leaving the airport.
FAQ's about this trip & more
Where is Bluff Beach Resort?
Bluff Beach Resort is located on an Caribbean island called Bocas del Toro close to the coast of Panama. The beach is at the front of the compound, with great views of the water from the main house deck (where you will have meals, yoga and right by the pool). The town is called Bocas Town and a $15 cab ride and 20-25 minutes each way.
What is the nearest airport?
You will fly into Panama City (PTY) and the Island is called Bocas del Toro (BOC)
Where do we stay in Panama City?
We will stay at the International Grand Hotel, where breakfast is included.
How do we get from the airport to the resort?
Included in your retreat rate are airport transfers to and from the resort. We will fly at 6:30am from Panama City on May 2nd to the island Bocas del Toro, which has an international airport.
How much luggage can we take to the Island?
Due to Panama Air restriction, you can take up to 30 pounds check in and 5 pounds carry on. Each additional pound will be charged by $1 a pound.
What if I can't arrive or depart by the scheduled time?
If you can't arrive at the scheduled time for departure, you are responsible for coordinating your own transportation to or from the resort. There is a morning and evening flight to Bocas del Toro every day.
Do I need a Passport?
Yes, citizens of the U.S. and Canada may enter Panama with a valid passport. Note that Panama law requires a valid passport must be valid 6 months after the entry date. You must also have a roundtrip/outbound ticket. Citizens of other countries should check with the applicable Panama Consulate in your country about rules governing entrance into Panama. We recommend leaving a copy of your passport at home and bringing a copy of your passport with you, stored in a separate location than your actual passport.
What kind of electricity is there in Panama?
If you bring anything electrical, Panama runs on 110 Volts, 60Hz (same as the U.S. and Canada) and the outlets are the same as in the U.S. If you want to bring 200V equipment, a converter is needed.
What is the weather like?
Temperatures should be between 80-90F with expected rain showers. May is still considered dry season. We will be above the equator and it is considered central America.
What should I pack?
Below are most things we recommend:
Yoga Mat (these are provided by the resort, but you may prefer to have your own)
Bug repellent - get the up to 98% deet!
Small fan - battery operated only, for additonal cooling
Headlamp or flashlight
A pen on the flight to fill out the forms to and from your destination
Earplugs (if you have trouble sleeping with the sounds of the waves)
Flip flops or sandals
Tennis shoes (for hiking, horseback riding or running, etc.)
Sunscreen
Sunglasses
Water bottle & wash-cloth
Please DON'T bring a hair dryer - resort is running on solar power mostly
Small backpack for day trips
Bathing suit(s) and cover ups
Comfortable light weight clothes (shorts, skorts, skirts, light dresses and tank tops)
For some excursions or for the evening you may need long pants, long sleeves or close toed shoes
Journal/notebook and pen
Handy wipes or hand sanitizer
Camera, Computer, Phone, Pads and chargers (Wifi is free)
Yoga/Workout clothes
Dry bag (because of the humidity your bathing suits may not be dry before departing)
Umbrella or light rain jacket (for afternoon showers)
A good book or Kindle, magazines, word puzzle, card games (or two or three)
For immigration: please do not bring nuts, seeds or fruit into the country.
Cash for personal use, like dinner in Panama City and alcohol. Also note, cash in USD in small bills is recommended – 100 USD bills are not accepted in most places.
What shots are required for Panama?
You should be up to date on routine vaccinations while traveling to any destination. Please be aware what the Center for Disease Control recommends. All over the Americas there is a risk getting Malaria. Do what you must. Use common sense and repellent.
Will the meals be vegetarian?
No, meals will not be entirely vegetarian. Chicken, fish and seafood will also be available at all dinners. All three meals per day are included in your retreat package.
What time do we eat?
Meal times are flexible and they will adjust for special wishes. Breakfast is from 8 – 9 am, Lunch is from 1 - 2 pm, Dinner is from 7 - 8 pm.
Can I drink the water @ Bluff Beach Resort?
Bluff Beach Resort supplies bottled water for their guests – and use filtered rain water fortheir showers, toilets and laundry.
Is it okay to sign up by myself?
Absolutely! You can reserve your own room, or we can assign you a roommate if you would like to share a room as long as we have other guests (females will share with females and males with males) also requesting a roommate. You will be able to enjoy as much private time or social time as you like!
Is it okay to sign up with my spouse/partner/friend?
Definitely! This retreat is a great opportunity to reconnect with a spouse/partner/friend away from your busy schedules. You also get a built-in roommate this way!
What type of yoga classes will be offered?
A variety of classes will be offered throughout the week. Vinyasa classes, Hatha Yoga classes, 3 Minute Egg workshop, Meditation, Restorative Yoga and Breathing practices. We will offer a yoga class at 9:30am in the morning for an hour and another yoga class at 5:30pm for an hour in the evening.
I am new to yoga. Will the classes be too challenging for me?
The best thing about yoga is it can be modified for all levels. You can come and never have taken a yoga class before! This is a great opportunity to begin and learn. The classes will be challenging in a good way. Petra & Lurie are both trained to teach beginners. If you are an experienced yogi, both can offer you advanced variations and assist you with more challenging postures.
How much yoga will we practice? Do I have to attend every class?
We will have two classes each day for 60 minutes. You can attend any of the classes you wish, but you can also skip any classes you want. Maybe you need a break or even decide to take a full day off to explore Bocas del Toro island more...
What contact information can I give my family in case of an emergency?
You may have them contact the Bluff Beach Resort by calling: 011-507-6677-8867 or by sending an email to paradise@bluffbeachretreat.com Ron Dennis originally from Canada will take great care of us during our trip!
What time zone is Panama?
There is one hour time difference from Colorado to Panama in May. Panama is observing Standard time. If it's 11am in Colorado it will be 12pm in Panama.
How old do you have to be to attend this retreat?
We ask that all of our guests are at least 18 years old.
Can I ride bikes?
Yes! Bluff Beach Retreat has free bikes for you to explore the island. It's a 45 minute bike ride into Bocas Town.
How long is the swimming pool open?
The swimming pool at the Bluff Beach Retreat is open 24 hours.
Is there Wifi in the rooms?
Wifi is free and available. For communication with your loved ones abroad, we recommend you download on your phone WhatsApp, which gives you free text messaging all over the world. YYou can also chat for free with Skype.
Is there a refrigerator in the room?
Yes, the houses have kitchens with fridges so you can make ice and yes, you can have food in your room. We will stop in Bocas Town at a Supermarket before we arrive at the Bluff Beach Retreat, so you can buy drinks, snacks, alcohol - whatever you like.
Is there a Bar at Bluff Beach Retreat?
Yes, they have a bar. A bottle of wine is $12, a beer is $2 and the cocktail of the day is $3.
Will we see some sea turtles?
Yes, the Giant Leatherback turtles start coming up (nightly) on Bluff Beach in Bocas del Toro in May - the nesting season here normally runs until July. There are other turtles that nest at other times, but the Leatherbacks are the most prominent. There is a good chance we can observe them.
Activities
Bocas del Toro is an archipelago or a group of islands. There is something for everyone - the ocean lover and the hiker. Or, just grab a hammock and a good book and RELAX!
On the property we have bikes, snorkel gear, boogie boards and rubber boots for your use. Many activities are right outside our front door. Take the bikes down the road - pack a lunch and bring snorkel gear to enjoy the pools of Playa Pristina and the Piscina. For the surfer, there are different breaks around the archipelago during surf season. Bluff Beach can be an experienced surfer's dream!
We have excellent boat guides just a phone call away to help you explore the islands of Bocas - jump off to swim and snorkel to see the most amazing coral and marine life. Visit a local cacao farm to see how chocolate is made - don't forget to bring some home!
Of course, the Horses of Bluff Beach Retreat are always happy to give you a lift to the Piscina. Take a hike to the farm for a visit with the horses and sheep or if you like to get dirty - you are welcome to pick up a brush and help out with the grooming.
---
---
We have a few spots left. Namaste
On May 2nd we fly to Bocas del Toro. We will make the inland flight arrangement to and from Panama City to Bocos del Toro so we will be all on the same flight to the island. If you want to stay longer (either in Panama City or Bocas del Toro) please let us know. You can make your own bookings as well.
(1) One single room at Bluff Beach Retreat is available for $2800 but with shared bathroom.
(2) Only one yoga class at 5:30pm the day of arrival.
(3) Breakfast, Lunch & Dinner included during 6 day Yoga Retreat at Bluff Beach Retreat. Breakfast included at hotel in Panama City. Lunch included on canal tour. Dinner in Panama City and any alcohol is not included.
(4) Lunch is not included in the City Tour. Please also add + $15 entrance fee to the Miraflores locks. The $15 is admission to the Visitor Center and a movie on the Canal, gift shop, etc.
(5) We will leave for the Panama Canal tour at 8:30am. Panama Canal partial transit will go to two (2) locks out of three (3). The 3rd lock would put you into the Pacific Ocean.
(6) Single Room available in Panama City for extra charge.
(7) Ground transportation: There will be two group pickups the evening of May 1st, and two group pickups for the return trip on the morning of May 10th.
(8) Roundtrip airfare from the USA to Panama City is around $700 and Roundtrip from Panama City to Bocas del Toro is $280 and is not included. On May 2nd at 6:30am we will fly to the island. United Airlines has good connections through Houston, TX. American Airline and Delta fly to Panama City as well.
---
---
Before you go on this trip - we expect you to print and sign your Emergency Information (PDF) and have your signature on the Yoga Retreat Legal Liability Waiver (PDF) .
If you can't make this trip (for whatever reasons) the amount of your deposit and full amount is NON REFUNDABLE - please take out your own insurance for this trip & airfare! We recommend Allianz Travel Insurance. Thanx!
---
---
Your Teachers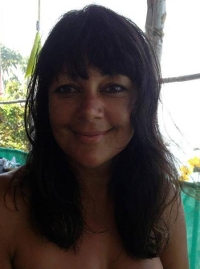 Petra Büte, MBA, E-RYT 500 has been on her yoga journey for over 13 years. She is a certified Hot Yoga and Power/Vinyasa Yoga teacher has taught since 2005. She is originally from Germany and has an MBA in International Business. Petra leads Restorative Yoga workshops, has taught yoga in corporate fitness settings (Avaya & Lockheed Martin) and is the founder and director of Heavenly Yoga, and teaches at yoga studios and community centers throughout the Denver Metro area.
She had the honor of studying with many amazing and knowledgeable teachers such as Baron Baptiste, Shiva Rea, Desiree Rumbaugh, Rodney Yee, Richard Freeman, Ana Forrest, David Swenson, John Friend, Seane Corn, Judith Lasater and Peter Clifford, and others.
Combining her study of yoga with an interest in learning more about about the Union of Body and Mind, Petra has developed her own Yoga style with personal attention, in-depth knowledge of alignment and yoga philosophy and a fun, fresh sense of movement and ALWAYS laughter in her classes. Petra was involved from the beginning with the teacher training at the Evergreen Center for Yoga, CO and came back in December 2011 from practicing yoga and meditation in Thailand for a month. She lead her first Yoga Retreat to Costa Rica in June 2012 and has done various little workshops and mini-yoga retreats in Colorado.
While doing yoga in Thailand with Peter Clifford, she was very impresed about his style of teaching yoga, knowledge and deep understanding of yoga therapy. His teachings of the The Five Element Form is part of an ancient Tantric Yoga practice. The Form is a sequence of flowing movements resembling traditional Vinyasa Yoga asana, Tai Chi and Chi Kung. It connects us to the five elements of Earth, Water, Fire, Air, and Space (akasha). This yoga technique enhances the qualities of health and vitality to enable us to discover our amazing true potential.
Petra went back to Thailand in December 2012 to immerse herself in intense Yoga training and will be going to India for a month in December 2013. Teaching Wheelchair Yoga at Bear Creek Nursing & Rehabilitation Center in Morrison, CO for residents is one of Petra's favorite classes. Her oldest yoga student is 103. She understands the challenges and humbleness when it comes to yoga and is very knowledgeable about Yoga Therapy, Meditation and Yoga breathing techniques. Petra is looking forward to another retreat with Lurie in April & May 2014 and hope you will join her to create a strong healthy body and rejuvenate your spirit.
---
---
Lurie Nassau, PhD, E-RYT500, CYT (certified yoga therapist), has been teaching yoga for eight years and meditation for over 35 years. She is certified in Level I hatha yoga, Level II hot vinyasa, Levels II-V yoga therapy. Lurie is also a certified pilates instructor in mat and reformer through Balanced Body. She has a MA in human relations and a PhD in human communication.Lurie has led several workshops using the Three Minute Egg including the use of these egg shaped props in two Costa Rica retreats.
She teaches corporate fitness (yoga and yoga-lates) for Coors/Miller at their Wellness Center in Golden, CO. She has led meditation, hatha yoga, and hot vinyasa classes at the Evergreen Center for Yoga and yin yoga/meditation at True Yoga in Evergreen, CO. She taught in teacher training programs for several years.
Lurie's studies have included annual yoga conferences and workshops with leading instructors including Richard Freeman , Ana Forrest, Rodney Yee, Shiva Rea, Baron Baptiste, Seane Corn, John Friend, Desiree Rumbaugh, Judith Lasater, (restorative yoga), and most recently with Richard Miller, PhD (yoga nidra). She has been able to maintain a yoga practice after bilateral hip replacement surgeries. Her personal injuries have helped her to understand and work with those who have joint issues and anyone just beginning a yoga practice.
Lurie is a member of IAYT (International Association of Yoga Therapists). Her current practice of yoga therapy works with individuals, assessing their specific yogic needs and prescribing yogic techniques for home practice. Lurie has completed research on yoga for hip replacement patients and written a report which includes recommendations for yoga teachers working with hip replacement clients. She teaches a weekly therapeutic yoga class for the general population at a fitness center.
Lurie is an expert scuba diver and has traveled many places in the world for scuba including Fiji, the Indian Ocean, Thailand, Central America, and many Caribbean Islands. She also spent one month in India in 2012, visiting Hindu temples, ashrams, and experiencing the local cultures. This journey had been her goal since the 1970's when she studied meditation with Maharishi Mahesh Yogi in Europe for six months. She lived in several ashrams for short periods of time, including the Siddha Yoga Ashram in New York with Swami Muktananda in 1981.
Lurie is looking forward to having you join her and Petra for the Panama 2014 yoga/meditation retreat. It will be an amazing spiritual experience as well as a fun ocean beach and jungle adventure. Namaste
Testimonials
What people said about 2012 Costa Rica Yoga Retreat:
"This was a great trip, with lots of different styles of yoga and meditation paired with great side trips (like ziplining!), time by the ocean and amazing sounds of wildlife in the jungle." Connie Y.
---
"I have traveled to many places. This yoga retreat was the trip of a lifetime. The setting was absolutely breathtaking – monkeys howling, beautiful jungle plants and flowers, gorgeous surroundings. And, more incredible, was the yoga – I just felt wonderful every day! Petra and Lurie were fantastic! Costa Rica was wonderful." Jody F.
---
"Unforgettable is an understatement in regards to my Costa Rica Yoga Retreat taken the summer of 2012. My travels, accommodations, wonderful foods, yoga and mediation classes each day were more than I had imaged. The relaxed schedule allowed me to do some of my own activities, walks on the beach, guided tours, and enjoy the feel of Costa Rica living. This was by far the best trip I've taken in my life to this point! Thank you Lurie & Petra for the experience." Kimmy B.
---
"My friend invited me to go with her on a Costa Rica Yoga Retreat with Petra and Lurie in June 2012. We had a fabulous time and came back feeling very relaxed and balanced. One of my favorite memories is listening to the exotic sounds of the rain forest while we were doing yoga in an open air studio. The retreat center is first-class and it has a beautiful swimming pool surrounded by the most unusual plants I have ever seen. I highly recommend this trip to anyone who wants to get away and enjoy Pura Vida for awhile." Patty W.
---
"Our yoga retreat at The Goddess Garden was amazing! Our hostess Jackie was very accommodating and has provided the perfect environment and delicious food to enhance and complete any Yogi/Yogini's dream of a Namaste experience. Thanks to Petra and Lurie for planning and developing a well rounded and interesting combination of yoga classes for all of us to experiment with. They also researched and sought out some very cool day excursions for everyone to heighten the whole trip!" Michele H.
---
"I am pleased to write about my experience on the Costa Rica yoga retreat with Petra and Lurie. It's not an exaggeration to say "it was life changing". I decided to go on my own and ended up sharing a room with someone I had never met. I'm 64 and she was 30, the age of my youngest daughter. That was my first delightful surprise. By the end of the week everyone on the trip was bonded. Yet I also spent a lot of time on my own. It was wonderful to be fed three lovely meals a day in a wonderful open air dining area where we could look out at beautiful exautic flowers and listen to frogs, howling monkeys, and a variety of song birds. The yoga and meditating we did helped me clear my head and begin to ponder how I want to live the rest of my life. I spent time near the pool or on the beach journaling and relaxing. Soon I found my self softening my heart, opening my heart and loving myself and others with more passion. I laughed a lot, shared myself and felt very connected to the lush Costa Rica environment. I feel like my creative juices were released and since I have returned to my life here in Denver I have lived with more intention and all that I choose to do has more meaning. I look forward to another yoga retreat in the coming years; possibly with my daughters of a few good friends, or who knows, maybe I'll talk my husband into joining me.If you've read about the February trip and felt a little tug to participate. Don't wait. Sign up and go. Take a friend, or go on your own. But go. You'll be happy you did. Namaste ~ " Barbara M.
---
"The Costa Rica yoga retreat I took with Petra and Lurie was fantastic. On top of getting two different styles yoga we got great food. The owner of the Goddess Garden does all the juices straight from the rain forest. The tours were very reasonably priced!" Regina M.
---
"The yoga retreat in Costa Rica was a deeply nurturing trip for body, mind and soul. Wonderful teachers and a lush, beautiful place!" Kelly R.
---
---